Gregorios Manos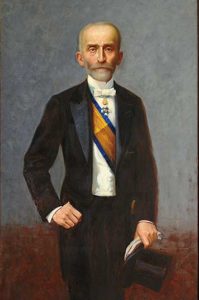 Gregorios Manos (1850-1928), was the Greek ambassador to Austria and the man who envisaged and founded the Museum of Asian Art. After his retirement, he lived in France for a rather long period of time and created a collection of approximately 9,500 items, of Chinese, Korean and Japanese art. These artefacts were acquired in artwork auctions, held in Vienna and Paris in the late 19th – early 20th centuries. They include ceramics and porcelains, bronzes, wood sculptures and paintings, prints, armour, weaponry e.t.c.
In 1919, Gr, Manos offered his collection to the Greek State and in return he asked for a small monthly pension, given that he had spent most of his fortune on creating collection, and that a Museum of Sino-Japanese art be established in Corfu. He also requested to become the Museum's first curator. The then Museum of Sino-Japanese Art –today's Museum of Asian Art- was established in 1927. A year later, Manos, who was living and working in an area of the Museum, which is today identified as the Manos Chinese wing, passed away.
Gr. Manos is known as a diplomat and a collector; he is, however much more than just that: He may rightfully be called a Historian of Art –and perhaps even the first Greek expert in Far Eastern art.
Nicolaos Hadjivassiliou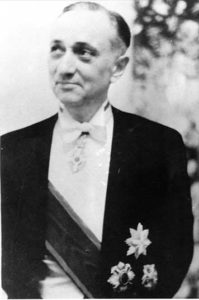 Nicolaos Hadjivassiliou (1905-1981) became a member of the Diplomatic Corps in 1930. His work in different Asian countries right after World War II, introduced him to their culture and inspired the creation of a significant collection of artefacts coming from India, Gandhara, Cambodia, Siam, Nepal, Tibet and Japan. The fact that among the collection works are rare reliefs of Gandhara's Greek-Buddhist Art, a number of remarkable religious ritual banners from the Himalayas and internationally unique Japanese folding screens, bears proof to the collector's deep knowledge and refined taste.
In the summer of 1970, Hadjivassiliou visited the Museum and, following Manos' example, decided to donate 380 artefacts. The donation took place in 1973 and covered the Museum's first floor west wing. The inauguration ceremony of the new Wing was officially held in 27 May 1976. The re-exhibition of the Hadjivassilou Wing lasted from 2006 until 2008 and comprises two theme units: 1. Artefacts coming from southern and southeastern Asia countries and 2. The painting art of Japan.
Harilaos Hiotakis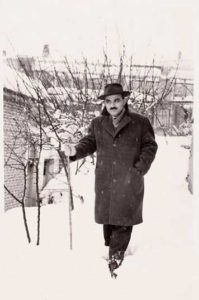 Harilaos Hiotakis (1915-1998), following the Destruction of Asia Minor –his birthplace-, fled as a refugee to Greece and in 1929 came to Utrecht in the Netherlands, where he traded fur.
He acquired a large works of art collection and in 1980, after the example set by Gr. Manos, he donated to the Museum of Asian Art 360 significant pieces.
The Hiotakis collection includes porcelain, bronze and ivory artefacts, mainly dating back to the 17th-19th centuries. These works originally come from China and Japan, although they were purchased in Europe.
Yiannis Sarzetakis & Jason Deighton Sarzetakis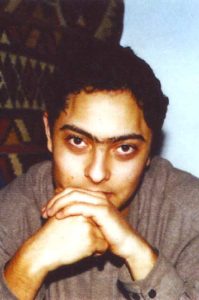 Yiannis G. Sarzetakis was born in the island of Syros in Greece. He studied music and lived in Paris for many years. In 1969, he travelled to Persia and Afghanistan for the first time, and he was fascinated by the history, the art, the people, and the unique landscape of Central Asia. Since then many trips followed to Central Asia, China, India, and Japan, accompanied by his wife, Ruth Deighton, and later their son Jason.
Jason was born in 1982, and quickly came to share the enthusiasm of his parents for the places and the peoples they encountered, as well as their unique art. While working, at a very young age, as a photojournalist for the 'Athens News' newspaper, he spent time at bazaars and flea markets searching for hidden treasures. His life was sadly cut short while he was studying journalism in England. He was 21.
In 2011 part of the family's collection, was donated by his parents to the Museum of Asian Art in Corfu. The purpose of the donation is to honor Jason's memory and share his enthusiasm for the art of Central Asia, an art of colours and patterns in harmonious combinations often mirroring the Eastern way of thinking.