Septinsular Republic
& Ionian State
The Ionian Islands (the 7 main ones are: Corfu, Paxos, Lefkada, Ithaca, Kefalonia, Zakynthos, Kythira) are the only part of Hellenism that did not actually experience the Ottoman yoke after the fall of the Byzantine Empire in 1453. Since the 14th century, they gradually became part of the Venetian "Serenissima" Republic, and followed Western European developments at all levels – political, economic, social and, of course, cultural. Thus, combining Byzantine tradition with Italian Renaisance spitit, shaped the Ionian/Heptanesian culture -unique for the Greek world- while keeping the Greek national consciousness and the Orthodox dogma intact.
In the 19th c., the Ionian Islands reached the zenith of their historic course, with the foundation of the first Greek state of the modern period, the Septinsular Republic (1800), which evolved in 1815 into the United States of the Ionian Islands (Ionian State), and became new state entities in Europe. Accordingly they formed "Greece before Greece", since the latter was only liberated from the Ottoman occupation in 1830. Ιn 1864, the Ionian State was united with Greece.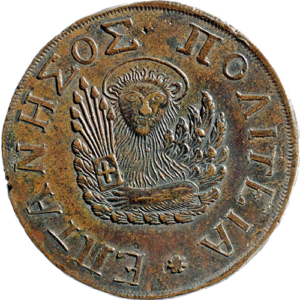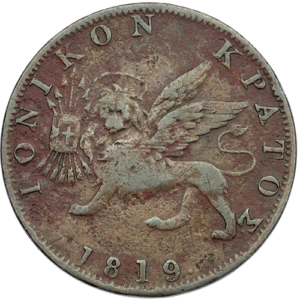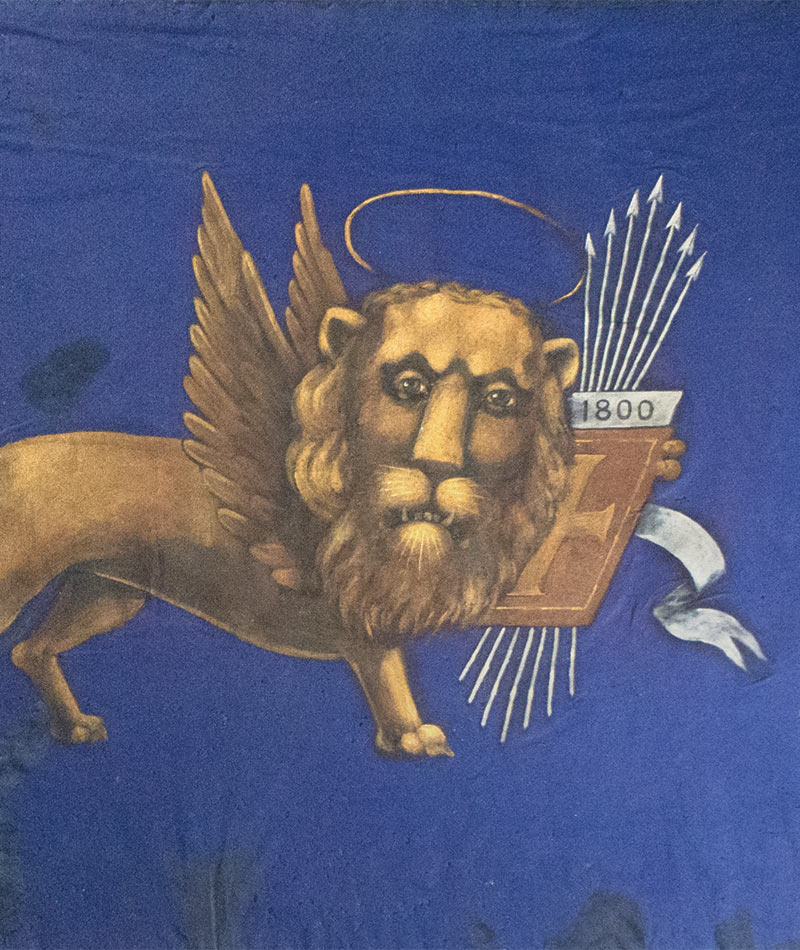 1800, the Septinsular Republic
In 1800 was founded the Septinsular Republic, with the consent of the Great Powers, a few years after the dissolution of the Democracy of San Marco by Napoleon in 1797. In the course of the 19th century the Ionian Islands will reach their peak. The Septinsular Republic (Respublica Septinsularis) constitutes the first organized Greek state in the history of Modern Hellenism, after the Conquest of Constantinople by the Ottoman Turks in 1453 and the fall of the Byzantine Empire. It had all the features of a European state of that time, including a constitution, which was signed in Constantinople on the 21st of March 1800 and is called "Byzantine", as well as its own coin with a Greek inscription, an administrative organization, embassies and a flag which was sanctioned during a special ceremony by the Patriarch of Constantinople himself. In 1807 the Septinsular Republic, despite its initial support by a Russian-Ottoman league, is conquered by the Imperial French and then by British forces.
However, the evolution of the Septinsular Republic into the United States of the Ionian Islands (or Ionian State) in 1815 under the sole "protection" of Great Britain as a result of the general rearrangements in Europe following the final defeat of Napoleon in Waterloo, induced a new peak in the region of the Ionian Islands, until their final unification with Greece in 1864. Τhe Ionian State developed an exemplary administrative organization in all fields, equivalent to those of the European states of the time, as well as political constitutional structures which it maintained until its dissolution. It is worth mentioning that the Constitutions of the Ionian State are, to this day, considered some of the most progressive in Europe for that specific period. At the same time, throughout its duration, the artistic features became crystalized and the artistic production of the Heptanesian Greeks skyrocketed, remaining, however, always within the Western European cultural framework.