Miniatures
Chinese Art Collection
The miniatures of the Chinese collection include bottles and objects from semi-precious raw materials such as ivory, jade and various other materials.
Traditional tobacco vials are small enough to fit in the palm of the hand. They usually have a small spoon attached to the cap, which was often covered by a hemispherical piece of semi-precious stone. They are, most likely, the evolution of small vials for medicines, which were already known from previous periods. The oldest tobacco vial dates from 1653, and mass production began in the 18th century. Vials with decorated interiors date from much later in the early 19th century.
The vials are made from a wide variety of materials. These include coral, ivory, Jade, Jasper, pearl, rock crystal, malachite, agate, turquoise as well as gold, silver and many other exotic materials. Despite being able to chose from amongst this great number of valuable materials, glass remained the most popular raw material for their construction, and most of the vials which have survived, are made of glass.
The Chinese also used to make ivory figurines of gods, humans and animals, brush holders, decorative objects, decorative office equipment, mostly banners and boxes, jewellery, and furniture, which was particularly fashionable during the Tang dynasty.

There are two different minerals, assigned the name «jade» or «yu» in Chinese: nephrite and jadeite. These minerals have similar characteristics, but different structures. Jade and jadeite are very hard stones and are difficult to break or crack. For the ancient Chinese, this strength lent the minerals a special symbolism. They embodied both beauty and stability. China, a country with huge reserves of nephrite and jadeite is known worldwide for the exceptional skill of its artisans in the carving of these minerals.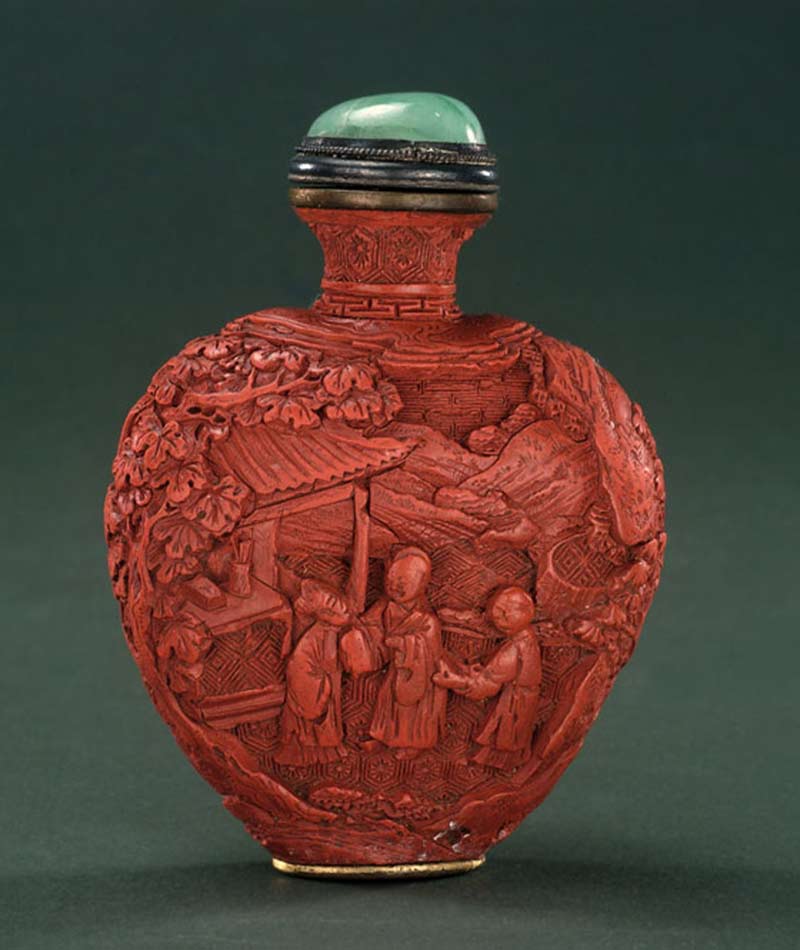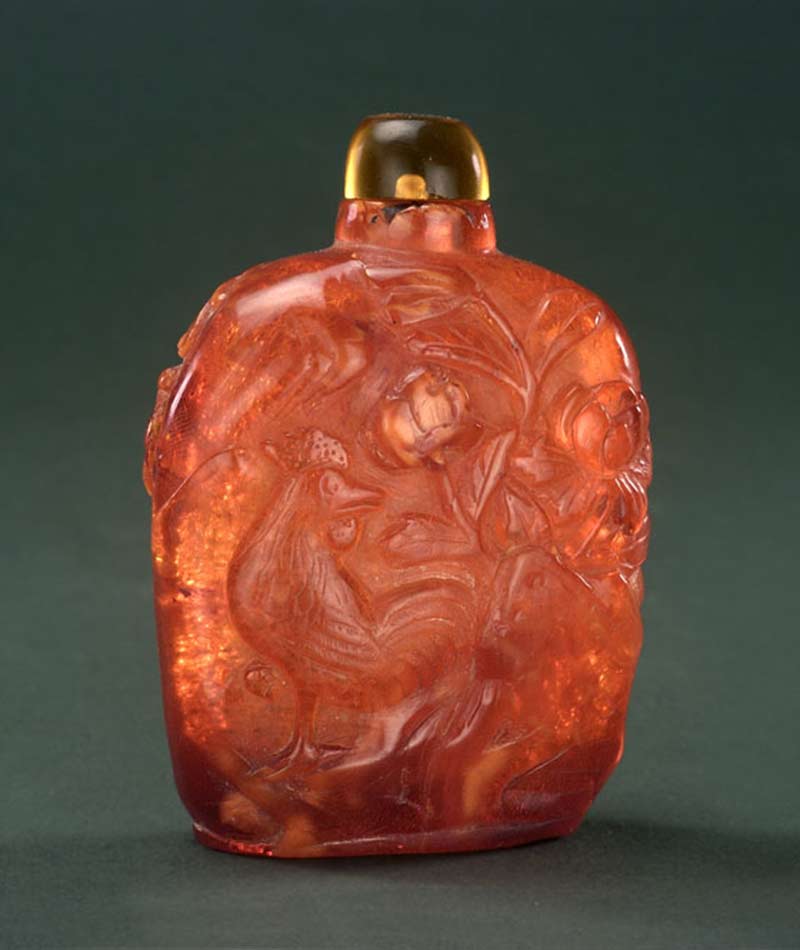 Gemstones & Precious Raw Materials
Apart from jade, the Chinese used many other gemstones and precious raw materials for the manufacture of seals, jewellery, pottery or the decoration of brass objects, furniture, weapons and clothing. 

Among these was pearl, a substance secreted inside shellfish, tons of which was exported to Europe. There was also coral, amber, turquoise, malachite, agate, onyx, rock crystal of various kinds, such as pink quartz and amethyst, soapstone, marbled or lardite stone, etc. Most decorative works made of semi-precious materials that survive today date from the 18th and 19th centuries. These include cups, plates, jugs, vases, bottles, figurines, and decorative objects.